The isolation of graphene, by University of Manchester Nobel Laureates Prof. Andre Geim and Prof. Kostya Novoselov in 2004, led to the discovery of the whole new family of one-atom-thick materials. By stacking up the atom-thick materials and sandwiching them between two layers of graphene, multilayered heterostructures with multifunctional properties are formed. These features range from conductive to insulating, as well as opaque to transparent.
Graphene is a new form of carbon, which is a 2-dimensional planar sheet. It is very thin with a thickness of just one carbon atom, providing free-standing atomic crystals with extraordinary physical properties. For example: graphene is many times stronger than steel, a better conductor of heat and electricity than copper, and is almost transparent to light. Graphene therefore has many potential applications, from ultra-thin displays and touch screens, to transistors and solar panels.
In our laboratory, we are synthesizing graphene using various physical and chemical techniques. This particular research work focuses on the finding of novel photovoltaic behaviour upon the intimate contact of graphene on other 2D materials. The SEM and AFM images of the fabricated graphene are shown below.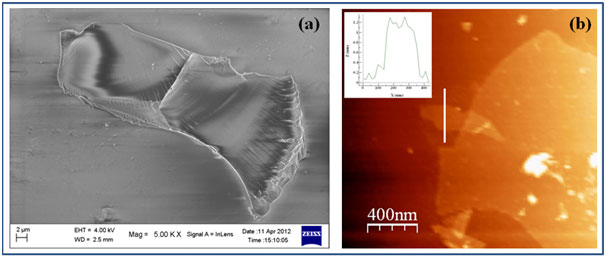 Fig: (a) FESEM micrograph and (b) AFM image with step height (inset) of graphene on glass